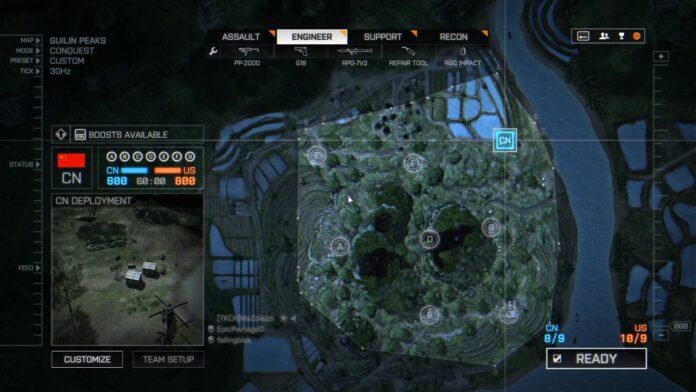 Battlefield 4 Guilin Peaks is a multiplayer map that was introduced with the China Rising expansion pack in December 2013. Guilin Peaks in Battlefield 4 is the only map in the game that features a jungle setting, and is similar to the Bad Company 2 maps such as Vantage Point and Laguna Presa.
Battlefield 4 Guilin Peaks Details
The Battlefield 4 Guilin Peaks map focuses mainly on helicopter and infantry combat, somewhat similar to the Vietnam expansion (and the war itself). The map features transport and light attack helicopters. The map features a large, central mountain that players can either go straight through, or around. Like other China Rising maps, it features the new Dirtbike vehicle (in addition to the Quad Bike).
One interesting thing about Battlefield 4 Guilin Peaks is the the new Air Superiority mode features helicopters instead of jets. It's the only map (so far), where the mode is comprised entirely of helicopters.
Other maps part of the China Rising expansion pack include: