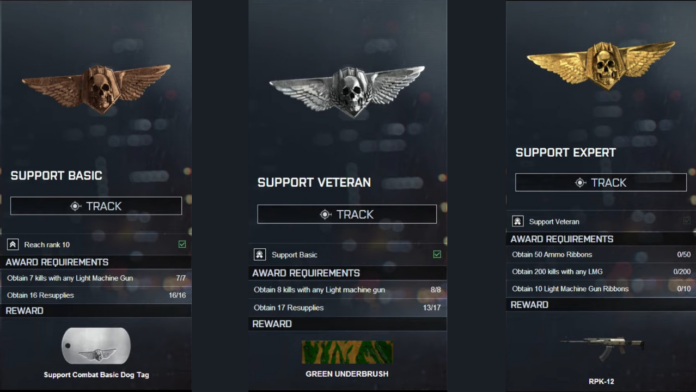 Battlefield 4 assignments are small tasks that players complete throughout the multiplayer game. Upon completing the tasks, players are awarded new weapons, dog tags, or vehicle unlocks.
A typical assignment would require the player to rake in a certain amount of kills with a weapon, earn some ribbons, etc. before the assignment is complete and the reward is released. Assignments use the stats feature to track progress.
The previous game in the series included over 60 assignments, although some of those were released later. It's expected that BF4 will ship with some assignments, while others will be available through Battlefield 4 DLC and expansion packs. In addition, Battlefield 4 Premium owners will have special assignments.
Battlefield 4 assignments list
The Battlefield 4 assignments are spread into three categories: Bronze, Silver, and Gold.
Here's the complete list:
Battlefield 4 Bronze Assignments
Assault basic: get 7 kills with any assault rifle + 11 heals + reach rank 10
Engineer basic: get 7 kills with any carbine + 16 repairs
Recon basic: get 7 kills with any sniper rifle + 4 squad spawns on you
Support basic: get 7 kills with any LMG + 16 resupplies
Land vehicle basic: kill 7 enemies with any land vehicle + destroy 25 land vehicles with any vehicle
Aircraft basic: kill 7 enemies with any aircraft + destroy 25 vehicles with any aircraft
Watercraft basic: kill 7 enemies with any watercraft + destroy 25 vehicles with watercraft
Carbine basic: 7 kills with any carbine + 10 carbine ribbons
PDW basic: 7 kills with any PDW + 10 PDW ribbons
Shotgun basic: 7 kills with any shotgun + 10 shotgun ribbons
Conqueror: Capture 20 flags in conquest + 10 conquest ribbons
Obliterator: Pick up 20 bombs + 10 Obliteration ribbons
By My Commander: 10 commander leadership ribbons + 1+ commander resupply ribbons
Blade Runner: 5 kills with knife + 10 melee ribbons
Silver assignments (requires basic/bronze assignment)
Assault veteran: 8 kills with assault rifle + 12 heals
Engineer veteran: 8 kills with any carbine + 17 repairs
Recon veteran: 8 kills with sniper rifles + 5 squad spawns on you
Support veteran: 8 kills with LMG + 17 resupplies
Carbine veteran: 8 kills with carbine + 20 carbine ribbons
PDW veteran: 8 kills with PDW + 20 PDW ribbons
Shotgun veteran: 8 kills with shotgun + 20 shotgun ribbons
Land vehicle veteran: 10 kills with land vehicles + destroy 50 vehicles
Aircraft veteran: 10 kills with aircraft + destroy 50 vehicles
Wartercraft veteran: 6 kills with watercraft + 20 watercraft ribbons
Tin foil hat: 10 commander surveillance ribbons + 30 EMP bonuses + spotting ribbons
We'll meet again: Launch 100 cruise missiles + deploy 50 early warnings
Leave no man behind: 25 squad savior bonuses + 25 squad avenger bonuses + 50 squad revives
Wrecking ball: 25 mobility critical hits + 50 vehicles destroyed
Stealth Assassin: get 20 dog tags + 20 melee ribbons
Gold assignments (requires veteran assignments unlocked + reach rank 100)
Engineer expert: 50 repair tool ribbons + 200 kills + 10 carbine ribbons (unlock: UMP-9)
Recon expert: 50 Marksman ribbons + 200 kills + 10 sniper rifle ribbons (unlock: FY-JS)
Support expert: 50 Ammo ribbons + 200 kills + 10 LMG ribbons (unlock: RPK-12)
Land warrior: 1 tank medal + 1 IFV medal + destroy 1 helicopter with a tank
Air warrior: 1 attack helicopter medal + 1 jet fighter medal + destroy 5 jets with attack helicopters
Taxi driver: 30 driver bonuses + 10 squad vehicle kill assists
Offensive commander: 30 kills with cruise missile + designate 10 high value tragets + deploy 50 AC-130 gunships
Hitman: 10 squad wipes + 5 killstreak stops + kill 3 designated high value targets
Melee expert: 50 melee ribbons
Wall of Shotgun: 50 kills with DBV-12 + 50 kills with M26 MASS + 50 kills with Serbu Shorty